An Online Skillshare Class by Christine Fleming
My newest Skillshare class just went live this week! This class is possibly my best one yet because I took all the feedback on my previous classes and applied it to this class! New microphone for better video quality, new camera skillzzz for better video angles, and a combo of talking head/screencast/live demos. Plus, this class is only 30 minutes, so it's not quite as big of a commitment for you as the student!

Here's the description of the class from Skillshare:
Learn how illustrator Christine Fleming creates her playful geometric patterns. In Christine's eyes, a geometric pattern explores repeating lines and shapes and focuses on the relation between points, lines, and shapes.

In this 30-minute class, you'll learn her step-by-step process for transforming a wobbly pencil sketch into a clean, symmetrical vector line drawing—the process behind her newly released adult coloring book, Entwined—as well as a range of tips on coming up with the initial pattern design and specific techniques and shortcuts to create a symmetrical vector design in Adobe Illustrator. Plus, the class comes with an exclusive, step-by-step Project Guide so you can create your own pattern.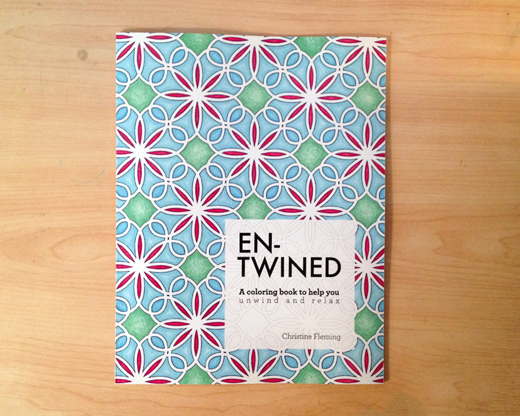 This class is perfect for illustrators, designers, and everyone who loves to draw and tinker. No prior knowledge of drawing, Adobe Illustrator, OR MATH SKILLS required!

By the end, you'll have everything you need to draw, refine, and clean up your own geometric pattern.

This project is a great introduction to Adobe Illustrator, and once you have your geometric pattern, it can be applied to t-shirts, phone cases, art prints, or coloring pages!
I hope you'll check out the class! :D