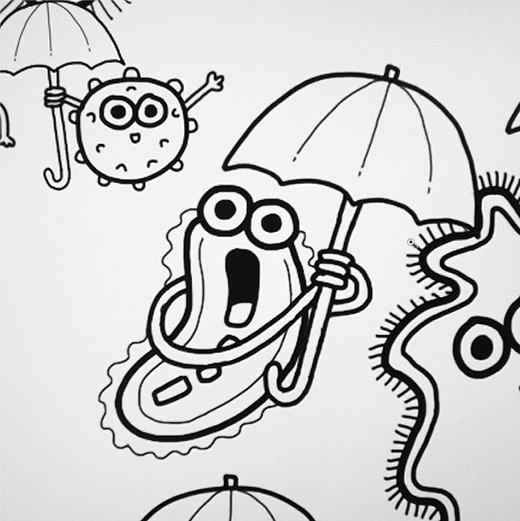 I usually just share process work (like the shot above) and freshly completed work here on my blog, but I thought it would be nice to share some of the podcasts that I listen to when I work. I've found a lot of these through other people sharing their own favorite lists, so I might as well pay it forward! I usually start the day out listening to music, but if I'm putting in long hours, listening to something more engaging helps keep me focused. I've compiled a list below of my favorite podcasts that I listen to while I work, in no particular order. I like to have a good mix of topics, as well as a range of light-hearted vs. more serious. Here's my top podcasts:
Visual Arts
Your Dreams My Nightmares: Interviews with well-known illustrators and art directors by Sam Weber on all kinds of topics within the illustration world.
Stories
This American Life: Stories about everyday Americans centered around a common theme. The storytelling, editing, and topics are spot on. Sometimes funny, sometimes a tear-jerker.
Selected Shorts: Short stories performed by well-known actors live in New York City. Both new and classics.
Current Events
Fresh Air: Generally interviews about current events and contemporary art. Really good for staying on top of issues, and they always have a good mix of topics.
Wait, Wait, Don't Tell Me: A gameshow recorded live in Chicago about current events in news and entertainment. Contestants are listeners, a panel of guests, and a celebrity.
Intelligence Squared: Each episode is a debate between two teams of experts on a provocative topic trying to convince the live audience to vote for their side by the end of the debate.
Economics
Planet Money: Short explorations of a wide range of topics within economics—entertaining and informative at the same time.
Freakonomics: Stephen Dubner and Steven Levitt (authors of the book, Freakonomics) talk about all kinds of patterns and topics in economics.
Science
RadioLab: Self-described as "a show about curiosity." And that's probably the best description.
Food
The Splendid Table: Interviews and stories about food including food issues, recipes, preparation tips, and trends.
So, those are the podcasts that I keep coming back to again and again. I'm always on the look out for new ones, so if you have any suggestions, do tell!