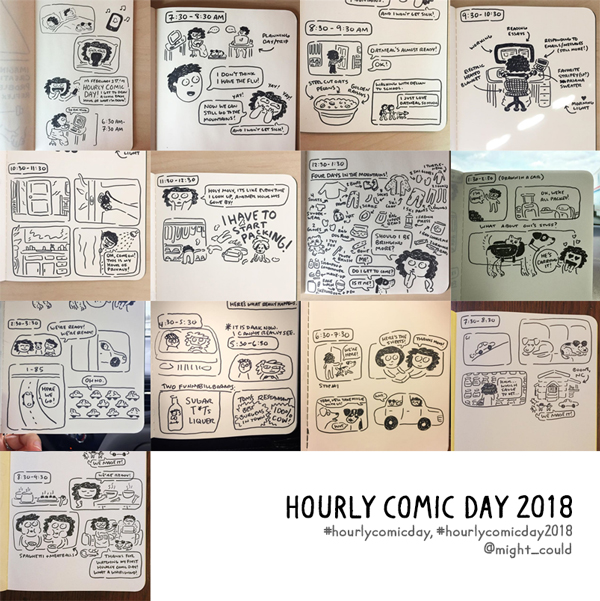 I've written before about monthly drawing challenges—like Inktober—and how they can help motivate us to draw consistently. This year, I decided to ramp it up and participate in Hourly Comic Day. This challenge was originally started by John Campbell in 2005 as a personal challenge to himself, and it's gotten pretty big now with hundreds of artists participating each year. Instead of a monthly challenge, Hourly Comic Day starts the moment you wake up on February 1, and ends the moment you go to sleep.
The only rule: draw a comic for every hour you're awake.
I've known about Hourly Comic Day for about two years,​ and one thing I loved about following along with people's work in previous years is how spontaneous and free-wheeling all the art is. If you're drawing a new comic every hour of the day, you don't have the time or energy to make each one precious and perfect. You're forced to just let something come out and share it as is. Otherwise you would literally be drawing every minute of the day, and you'd have nothing to draw except more of yourself drawing.

Now you might be thinking: if I've known about this challenge for two years, why did I just now decide to participate in 2018? Oh you know… the usual excuses:
I'm too busy today
I have other things I have to do
There's nothing interesting for me to draw a comic about today
How will I be able to keep up with it for a whole day?
What if I get tired or caught up in something and don't finish the challenge?
What if my Instagram followers get annoyed and all unfollow me?
What if I make a bunch of bad comics and they're all terrible and horrible and boring and I hate them and everyone else hates them too?
And nothing was different on the morning of February 1 this year. All those excuses were still there, poking and prodding me with reasons not to do it. Next year! Next year will be a better time to do it! We'll plan for it ahead of time next year!
As I was waking up and running through all those excuses in my head, fighting my inner lazy-girl, I remembered a note I saw recently. It was a note the writer Octavia E. Butler wrote to herself in her journal years ago, before she was a published author: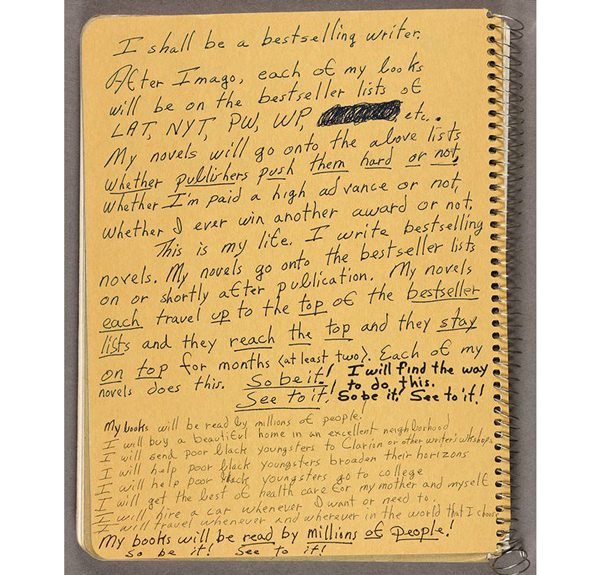 Octavia went on to become one of the biggest sci-fi writers of the 20th century and she did in fact, write many bestselling novels, won the Hugo and Nebula awards, and was the first sci-fi author to receive the MacArthur Genius Grant.
The whole note is great, but what speaks to me most is a phrase she repeats throughout the note:
"So be it! See to it!"
Octavia firmly decided what she wanted and proclaimed it to herself (and the universe), showing the audacity and confidence you need to achieve big goals.
And even more importantly, her mindset is not that she is owed this outcome or deserves this outcome. Her mindset is now that she has proclaimed what she wants, it's up to her to follow through.
"I will find the way to do this. So be it! See to it!"​
Our excuses always there. Every day, and every year. We're always busy, we're always tired, and the timing is never right.
But Octavia reminded me that if I wanted to do Hourly Comic Day, I had to decide it, proclaim it, and just do it. Not next year, this year. Today.
I had to forget the excuses, commit to what I wanted, and see to it! 
I'm happy to report that Octavia's courage and confidence hit me hard, and I completed my first Hourly Comic Day last week. If you'd like, you can see all my comics from that day below.
I hope Octavia's determination speaks to you as well, and encourages you to shout out what you want and see to it yourself!