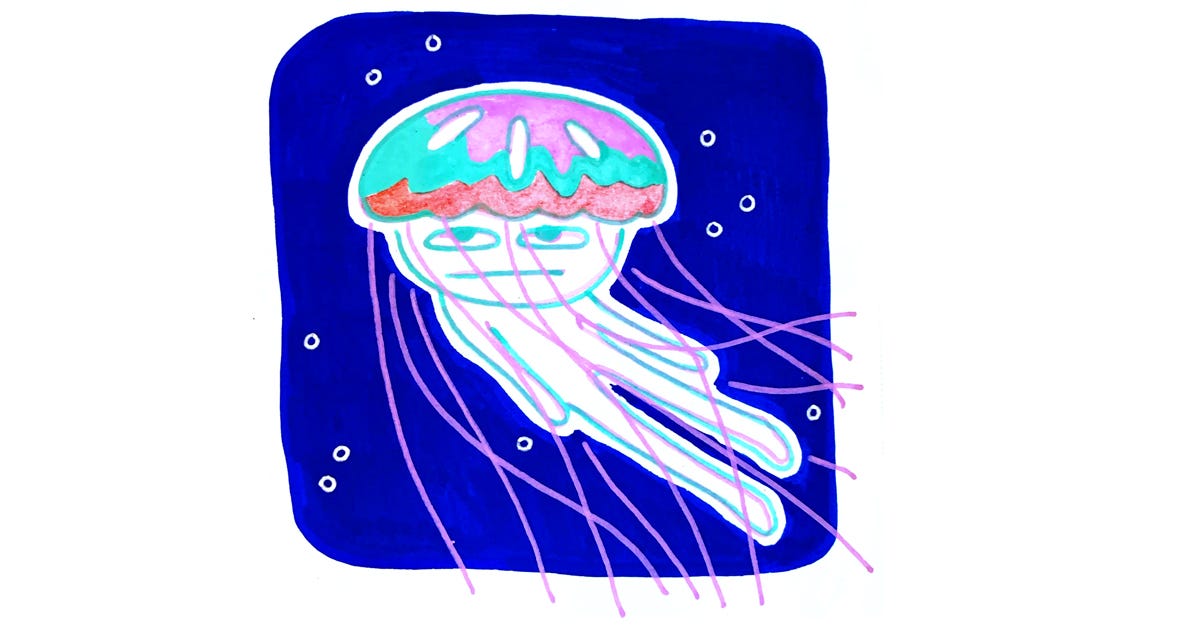 I've written recently about the joy of untangling a big knot and the importance of taking insane swings, and it's become obvious to me what that means for my artistic life.
I am finally going to create the book that's been simmering on the back burner in my mind for the past two years: I'm making a picture book about jellyfish!
I've been fascinated with jellyfish since college and have always wanted to make a book about them. My experience learning about and making a book about fungi was one of the most enjoyable and satisfying projects I've worked on, and I'm channeling that same energy for this book.
For We Are Fungi, I created the book live in a program I called Might Could Beta Books. That initiative was eventually shut down paused as I focused my time on other projects, including the Layla and the Bots series.
But now that I'm embarking on this second picture book project, I've decided to bring Might Could Beta Books back! Sharing my process with you and having that accountability and support was a crucial part to my last book's creation. But that was 5 years ago, and ya know, lots of things have changed since then.
So, instead of sharing my process as weekly blog updates on a private platform like I did last time, I'm evolving Might Could Beta Books to be something a lil' different.
Here's my plan: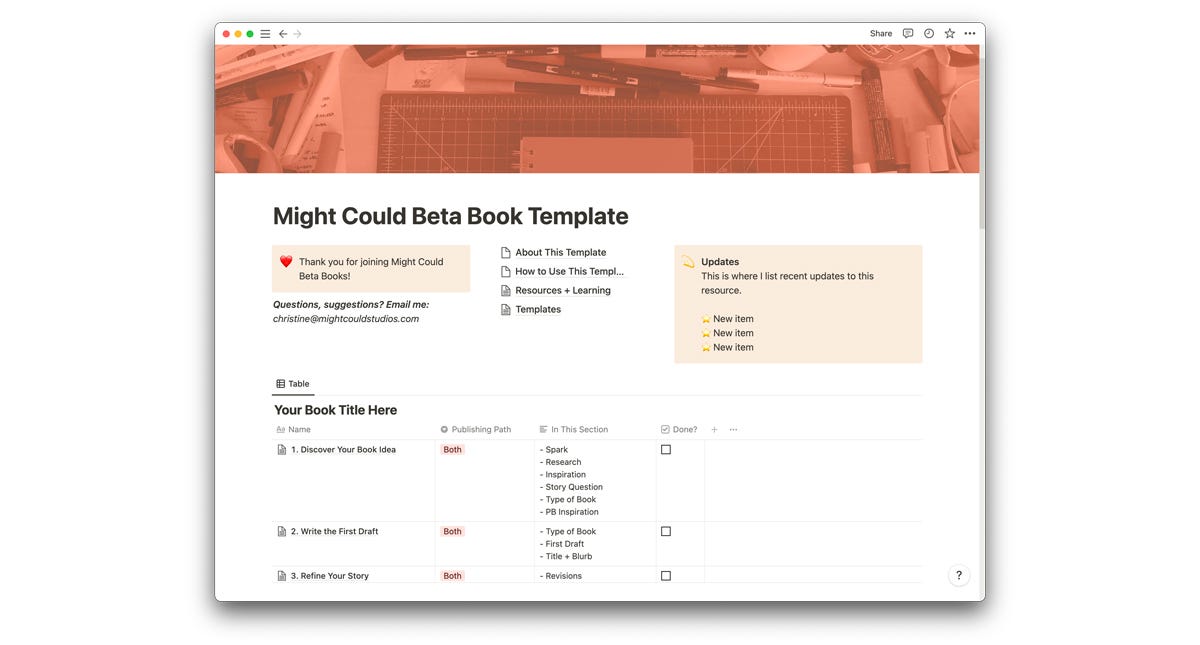 Notion book process template
I've written out my entire book making process and created a template document in Notion (see image above). This interactive template can be duplicated by anyone who wishes to make their own book, and filled in as you go along the process. It guides you step by step from discovering your book idea, writing the manuscript, revising, illustrating, and either submitting to publishers or self-publishing it yourself. Each of the ~17 steps opens up into its own page giving you specific actions to take and detailed resources to help you complete each task.
I'm putting the finishing touches on it now and hope to have it finished in the next week or two. If you've never used Notion before, don't worry! It's amazing (and free!) and I will create a video walkthrough showing you how simple it is to use the template.
Sharing my book process updates
I've officially started making my Untitled Jellyfish Book and once the template is complete, I'll copy it and start filling in my own. Through these weekly essays, I will include a link to my doc and write about the progress I've made. Sometimes I'll write straightforward updates and sometimes I'll write about creative process struggles and obstacles.
A few important things to note:
Paid Subscribers
Paid email subscribers will have access to the full template, including all resources and the ability to duplicate it to use yourself.
Paid subscribers will receive every weekly update.
Free Subscribers
Free email subscribers will continue to receive one essay per month, on the first week of each month. You will miss the other 3-4 book process updates throughout the rest of the month.
Free subscribers will see snippets of my Notion doc as I work through the jellyfish book, but will NOT have access to the full template, including the resources and ability to duplicate for your own use.
So long story short, if you want to see my full jellyfish book making process and possibly make your own book alongside me, consider becoming a paid subscriber today before we really dig in next week!
I considered packaging up all this experience and information into a giant picture book making course and selling it at a pretty big price tag, but I want this to be more interactive, more helpful, more supportive, and more affordable for you. And I think this Notion template and process walkthrough are more conducive to the creative book making process. $5/mo or $50/yr ain't bad for access to literally everything I know about picture books, y'all.
Either way, I'm happy you're here and so excited to be finally diving head first into the world of jellyfish! You can find the most recent updates in this series below!
<3,
Christine
—
Might Could Beta Books: Jellyfish Book Process