My popular premium online course, taken by over 500 students, is now available in book format! Ten chapters packed with insights into creativity, drawing, sketchbooking, and 50+ drawing assignments to guide you in developing your unique artistic style.
Book Details:
Publisher: Might Could Studios
Publish Date: May 15, 2023
Ages: All ages
Genre: Creativity/Art/Drawing
ISBN: 978-0-9994039-1-4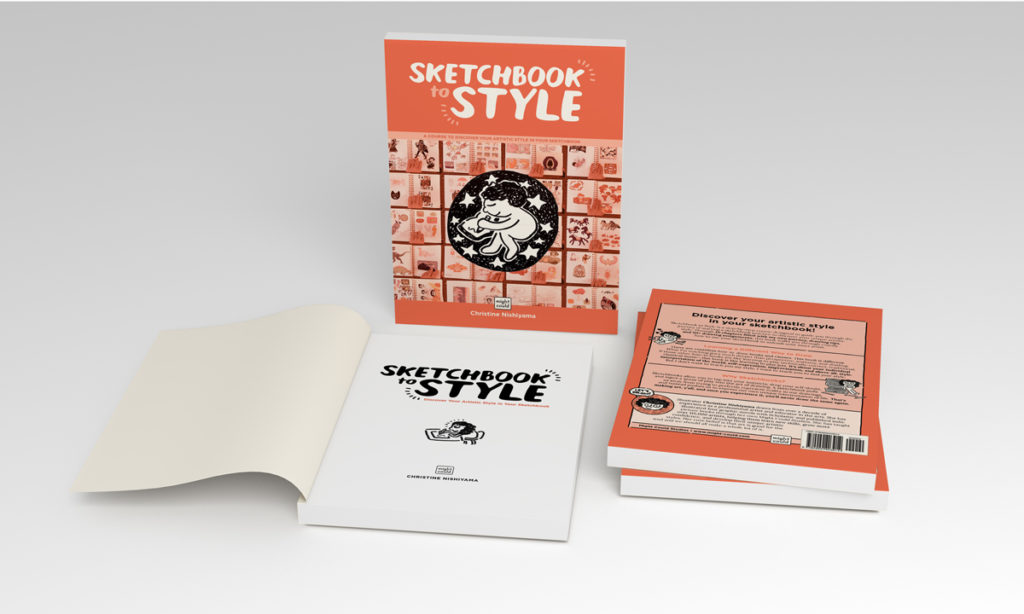 Discover your artistic style in your sketchbook!
Sketchbook to Style is a step-by-step course designed to guide you through the journey of starting a sketchbook practice to discover your unique artistic style. Through 10 chapters filled with my own journey, drawing tips, and 50+ drawing assignments, this book walks you through exactly how to use your sketchbook to unleash your inner artist.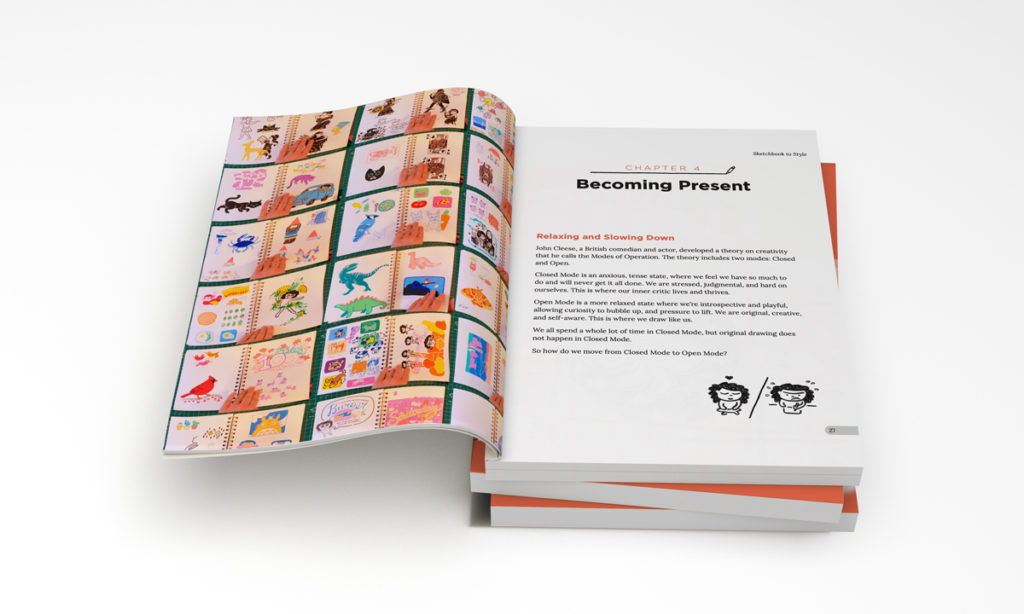 10 Info-Packed Chapters
1. Getting Started with Sketchbooking
📖 Using This Book
📖 Tools + Materials
📖 The Sketchbook Manifesto
✏️ Assignments 1.1–1.2
2. Freeing Your Hand
📖 Training Hand-Eye Coordination
✏️ Assignments 2.1–2.4
3. Making Marks Without Fear
📖 Here's a Secret
📖 Fear of the Blank Page
📖 Imposter Syndrome
📖 I Can't Draw What's in my Head!
✏️ Assignments 3.1–3.3
4. Becoming Present
📖 Relaxing + Slowing Down
📖 Getting in the Flow State
📖 Keeping Your Hand Moving
✏️ Assignments 4.1–4.3
5. Letting Go to Play
📖 Accepting Uncertainty
📖 Enjoying the Process
📖 Playing While Drawing
📖 Accepting Mistakes
📖 Iterating to Originality
✏️ Assignments 5.1–5.9
6. Discovering Our Ideas
📖 Looking at Our Memories
📖 Paying Attention
📖 Ideas Come From Actions
✏️ Assignments 6.1–6.7
7. Exploring Our Voice
📖 Drawing is About Seeing
📖 Drawing from the Heart + Brain
📖 Worrying What Others Will Think
✏️ Assignments 7.1–7.7
8. Experimenting with Different Ways of Drawing
📖 Representation vs Interpretation
📖 Abstract to Emphasize
📖 3 Basic Drawing Guidelines
📖 Tips for When to Use Words or Not
📖 Word + Picture Combinations
✏️ Assignments 8.1–8.8
9. Refining Our Visual Style
📖 Your Mini-Me
📖 Mini-Me Help + Inspiration
📖 The 7 Visual Elements of Style
📖 Style is Always Evolving
✏️ Assignments 9.1–9.11
10. Doing the Work
📖 Developing a Creative Habit
📖 Your Drawing Space
📖 Establishing a Routine
📖 Perfection Does Not Exist
✏️ Assignments 10.1–10.6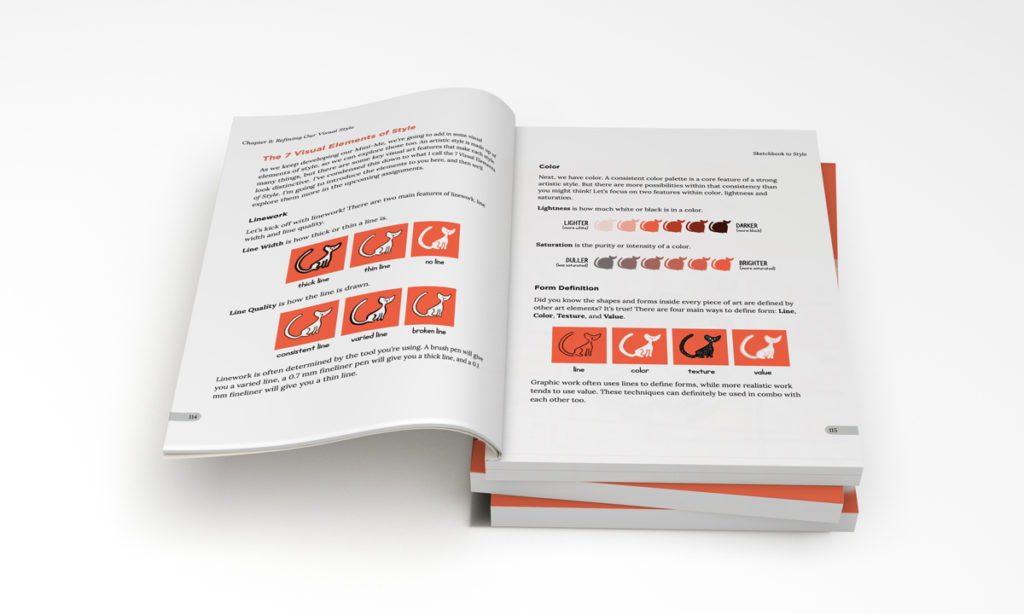 What the Students Say…
"It's thanks to you that I have filled an entire sketchbook for the first time in my life! I had never come even close before."
–Carla F., Sketchbook to Style student
"Thank you for the amazing assignments so far. I'm finding my style and enjoying myself while pushing myself not to give up. I started keeping the sketchbook journal during the workshop and have not stopped drawing since. This has been an amazing journey."
–Stephanie N., Sketchbook to Style student
"Never had a sketchbook embarrassing enough and now that has changed. Since starting Sketchbook to Style with Christine, you can clearly see where I begin to totally loosen up and scribble. It is liberating. It wasn't until Christine have I found more confidence in myself. I don't ever want it to end."
–Linda Z., Sketchbook to Style student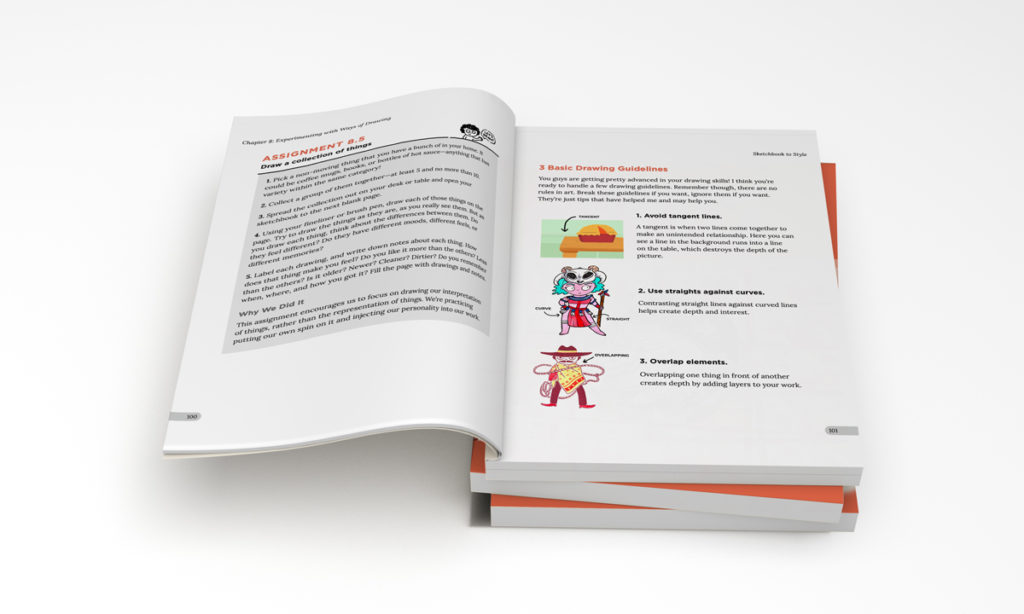 Learning a Different Way to Draw
There are countless how-to-draw books and classes. This book is different.
What I'm teaching goes much deeper than perspective, anatomy, and shading.
If those other how-to books are like learning to play technically correct, traditional, classical music—this book is like learning to play jazz. It's about your individual interpretation of the world, self-expression, improvisation, and above all, style.
But I don't want to teach you my style, I want to teach you to find your style.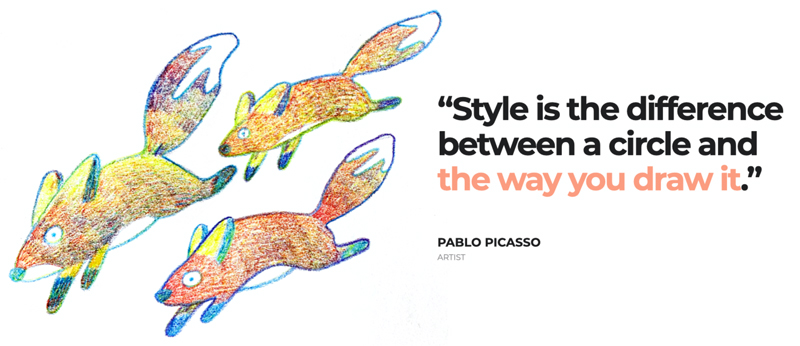 What the Students Say…
"I have been blown away by this experience. I hemmed and hawed before committing to the purchase, but I am really grateful I made the plunge."
–Derek S., Sketchbook to Style student
"Though I've taken collegiate-level art and drawing courses before, I had a really tough time being proud of my every-day drawings before finding Christine's classes. I can truly say she has been an integral part of finding my confidence as an artist so far. I have been drawing every day!! I know for a fact that what I've learned in just the first 5 sections of this course is what has given me the confidence to take on a daily challenge. Before I would have spent hours agonizing over the look of each of these guys, now they just seem to flow. I was never able to keep a sketchbook until following Christine either, that white-page fear is real!"
–Kara C., Sketchbook to Style student
"Not too long ago, people would ask me if I'm an artist and I would reply "not really", because… I felt like I didn't earn the right to call myself an artist. However, since joining I have finally accepted that "hey I am an artist!" I have more confidence in myself & my art than I ever have."
–Masina S., Sketchbook to Style student
"And this is huge for me too: FINALLY, I have managed to keep a sketchbook, instead of thrown papers all over the place. As many described, it ended up to be one of the most deep and rewarding experiences."
–Tatiana M., Sketchbook to Style student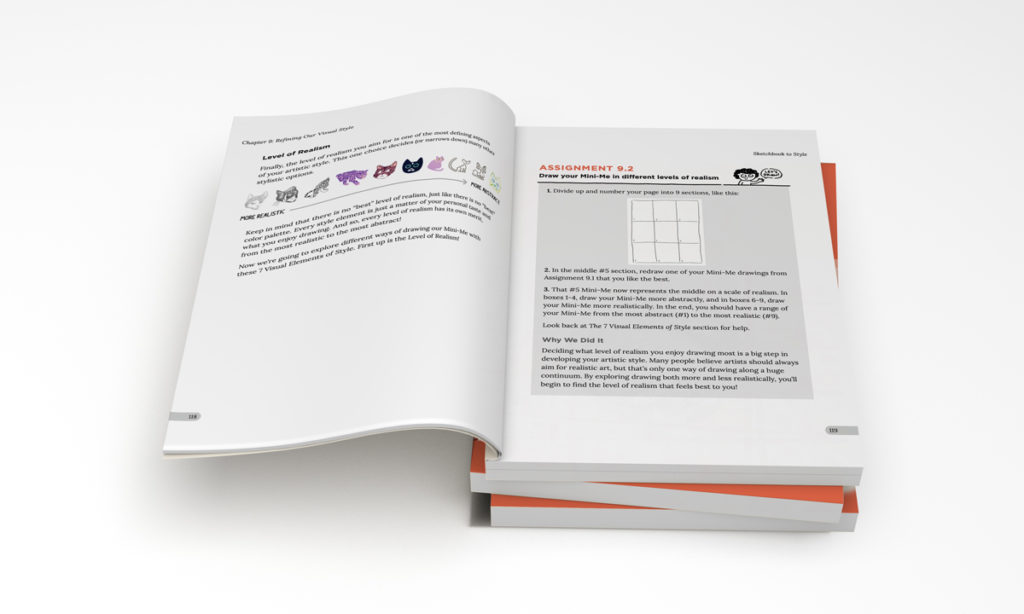 Why Sketchbooks?
Sketchbooks allow you to tap into your instincts, drop your self-doubt, and inject a sense of play into the act of drawing. A sketchbook pulls us away from trying to perfectly represent reality in our drawings, and instead pushes us to express our own unique interpretation of life. That's making art, y'all, and once you experience it, you'll never experience drawing the same again.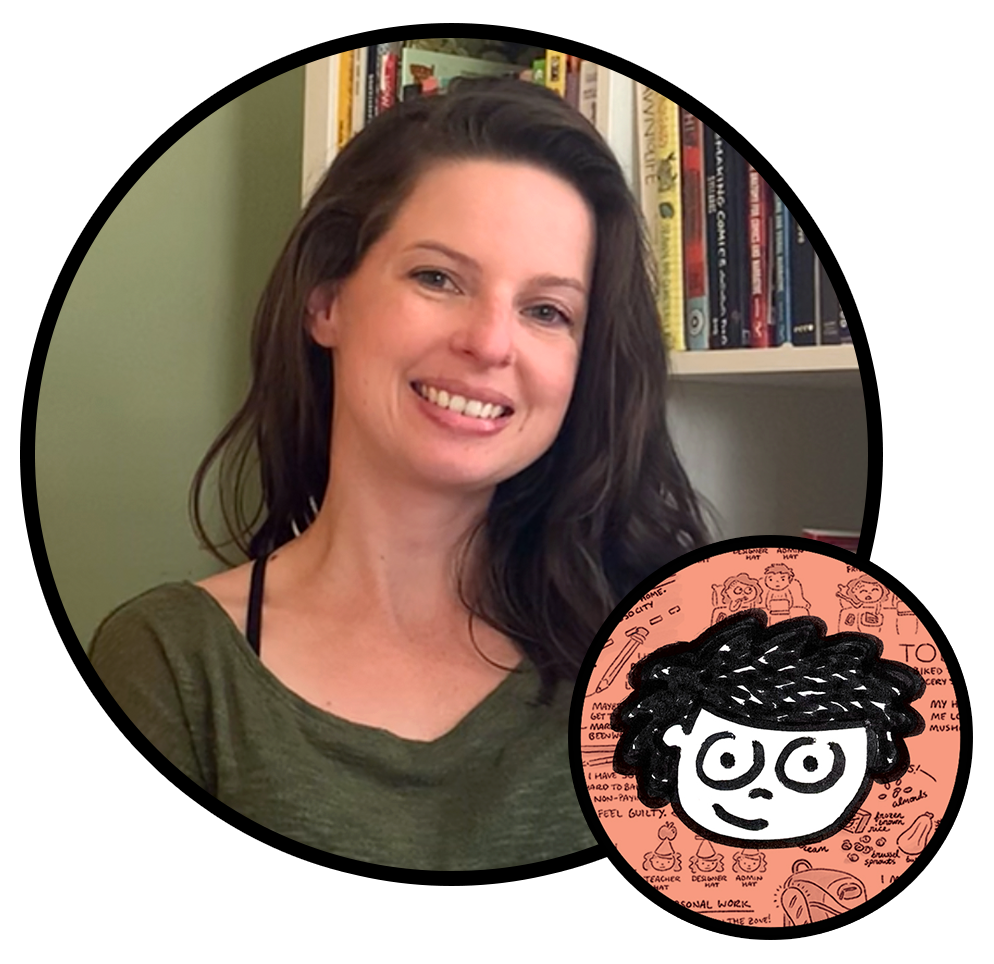 Christine Nishiyama
Creator of StS
Illustrator Christine Nishiyama draws from over a decade of experience as a professional artist and educator in the arts. She has illustrated four graphic novels with Scholastic and published indie picture books through her own Might Could Studios. She has taughtover 115,000 artists, helping them learn new skills, grow more
confidence, and develop their unique artistic styles. Her core belief is that art is good for thesoul and we should all make a whole lot of it.
Ready to discover your artistic style? Let's do this!