Book 1: Happy Paws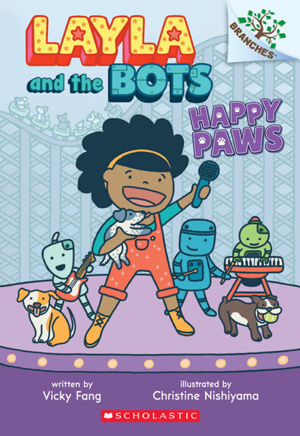 Buy the book now:
Amazon
Scholastic Store
Barnes & Noble
IndieBound
Target
Age Range: 5-7 years
Grade Level: Kindergarten-2
Series: Layla and the Bots (Book 1)
Length: 80 pages
Publisher: Scholastic Inc.
Published on: May 5, 2020
ISBN-13: 978-1338582895
This series is part of Scholastic's early chapter book line Branches, aimed at newly independent readers. With easy-to-read text, high-interest content, fast-paced plots, and illustrations on every page, these books will boost reading confidence and stamina. Branches books help readers grow!
Layla and the Bots are in an awesome rock band! They also use problem-solving and creativity to build cool inventions. When a local amusement park is in danger of shutting down, Layla knows just how to bring in the crowds… build an amusement park for DOGS! But will cool doggie rides like the Rub-a-Dub Mud Slide and the Tummy Rubbing Machine be enough to keep the park open?
With full-color artwork on every page and speech bubbles throughout, this early chapter book series brings kid-friendly STEAM topics to young readers!
Praise for Happy Paws
"This transitional chapter book is ideal for emergent or early fluency readers. It includes charming illustrations to assist with decoding, and interesting STEM themes… this bright, inventive title would make a nice addition to a library's early chapter book collection."

School Library Journal
"This easy-to-predict story, told in a mix of text and speech balloons, will give new readers confidence while imparting solid STEM lessons of research and implementation, and it's great to see a young girl of color portrayed as a confident inventor (and rock star). A solid introduction for an appealing new chapter-book character."

Kirkus Reviews
My daughter loves this book (age 6). She cannot wait for the rest of the series to be released!

Scott H.
"Have young inventors in your house or classroom? Happy Paws is such a brilliant book for teaching K-2 the NGSS engineering design process from start to finish… From research, idea generation, gathering feedback, building, and testing, Fang and Nishiyama's book shows that invention is all about tweaking, testing, and not giving up. Backmatter includes instructions for building your own roller coaster. This is a great book to help kids learn engineering and invention."

Kirsten L.
Layla and the Bots: Happy Paws celebrates the joy of imagining and creating… With her persistence and "huge and wild ideas," Layla is a terrific role model and a great friend to her funny bots… STEAM elements are incorporated seamlessly into the book as Layla and her bots use math, brainstorm, sketch out ideas, make music together, do research in the dog park, build, and then revise and rebuild… Layla and the Bots inspires readers to let their imaginations soar, and then to follow through and build their ideas.

Augusta E.

The Dogs of Happy Paws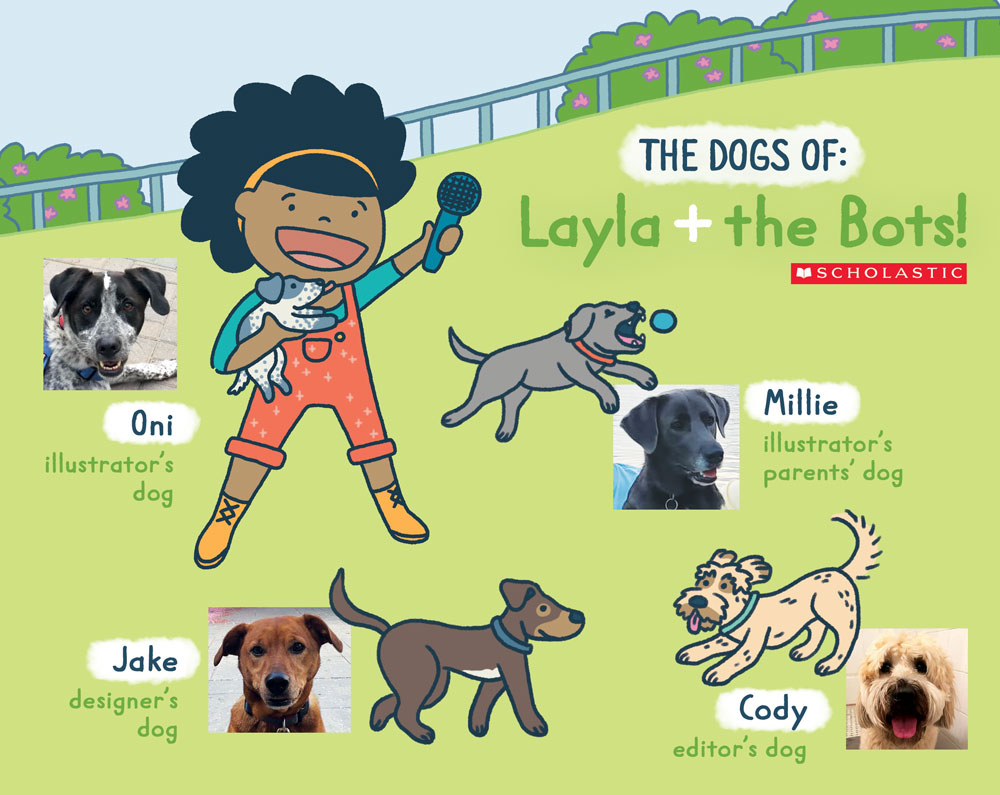 Activity Downloads