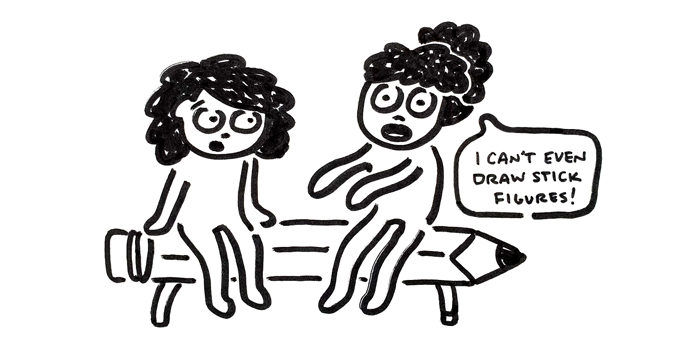 Literally 300 times a day, I have a conversation like this:
Person: So what do you do?
Me: I'm an illustrator.
Person: Oh my goodness! How wonderful! I can't draw. Not even stick figures!
First of all, a stick figure is a drawing. You just think it's a bad drawing. And that is the problem.

You Believe You Can't Draw
The problem isn't that you can't draw. It's that you believe you can't draw. And taken a step further, it's that you believe you can't draw well.
All kids grow up drawing, but along the way someone (a parent, teacher, classmate, society) tells us that drawing is unimportant. It's a waste of time, a selfish hobby, and you should be doing something more productive. And maybe along the way someone tells us we're not good at drawing and we'll never be as good as so-and-so anyway, so you might as well stop trying.
So we quit. We stop drawing. And then we grow up thinking we can't draw. We were all drawing. And then we weren't. And now we can't.
Drawing, and making art in general, is a series of failures. It's a process of trial and error, and an evolution of a skill that begins with being bad. We begin as failures.
But isn't that what learning is all about? If we weren't failures at the start — if we were already amazing artists, scientists, athletes — we wouldn't need to learn and practice. Everyone begins as an amateur. We begin by being bad.

The Hardest Part About Drawing
I believe you only need two things to learn how to draw:
Encouragement to develop confidence
Acceptance of failure to keep drawing
Online classes are good. Workshops with professionals are good. Books on drawing are good. But I'm sticking with my point: the only two things you need to learn to draw are Encouragement and Acceptance of Failure.
You need encouragement from others to grow your confidence and your belief in your own abilities to be able to keep going and keep learning. Yes, learning about composition, color, gesture… all of that is important. But technique is secondary to just DECIDING to draw. The hardest part is not the act of drawing. The hardest part making the commitment to do it again and again.
And the reason we decide not to draw is because we're afraid of failure.
"It's not the writing part that's hard. What's hard is sitting down to write." –Steven Pressfield, author of The War of Art
What if we draw something bad? What if no one likes what we draw? What if we draw something well, but then we can't ever draw something better? We fear the act of drawing, the unknown of drawing, and the reception of our drawings.
The reality is that you will draw bad things. Often. For every "good" thing an artist draws, there were countless "bad" things—countless tiny failures—that came first.
But by accepting failure, and not letting it stop you from continuing, you avoid the greatest failure of all—quitting.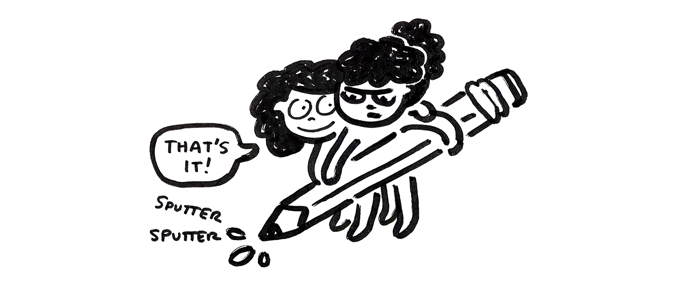 How Do You Teach Someone to Draw?
Somehow I've stumbled into the world of art education. I've taught over 60,000 students about art topics ranging from illustrating picture books to choosing colors to drawing facial expressions. I've learned much more than I've taught over the years. This experience of learning and teaching has been wonderful and enlightening, and I'm thrilled that I've been a part of so many people's artistic journeys.
As my classes have progressed, my thoughts on creativity and drawing have expanded and deepened. I've taught basic drawing principles, and I enjoy doing that. But I've begun to think more about what someone needs to learn to draw. What is most important? How do you teach someone to draw who thinks they can't? How do you get them over that hump?
So far, my thinking has led me to believe that my most important role as a teacher is to encourage you to explore and keep drawing.
You can ask me a question, and I can tell you my answer, but it might not be your answer. I can show you how I would draw the composition, but it might not be how you would draw the composition.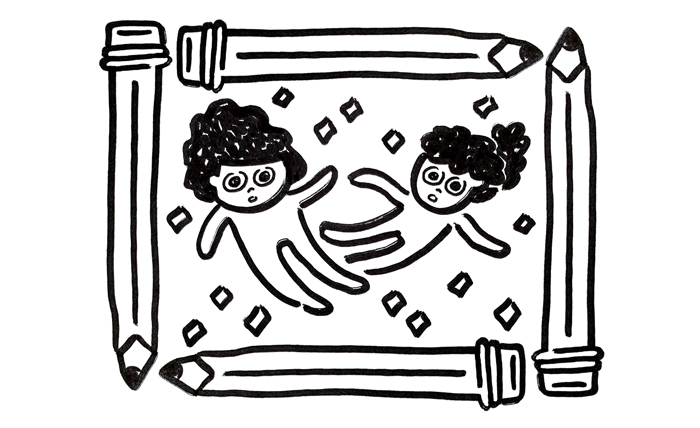 A Space for Learning to Draw
I think I can be most effective as a teacher by creating a space where you feel you can share your art, and receive encouragement and inspiration from others, mixed in with lessons, suggestions, and tips. In this space, the information and knowledge will be shared among students and teacher (who, let's be real, is also a student) and the core will be an atmosphere of experimentation and learning together.
It will focus on the artistic journey, the process of being creative, and the joy of making something new.
The lessons and exercises will give you the seed, and then together we will continue to water the tree.
But there is no one magic seed. The determination, the motivation, the will power, the magic — all that comes from you. Talent isn't given to you by some external force. Talent is made. Talent is grown. Talent comes from hard work.

In the Beginning, You Will Fail
Let's be real. When you begin learning to draw, you will be bad. Bad at drawing, bad at sitting down to draw, and bad at knowing what to draw.
But this space will be there for you. And I'll be there for you.
Because if you have the encouragement and the acceptance of failure, you can draw. You can empower yourself and take control of your creativity. You can draw just for fun. You can draw to alleviate anxiety. You can draw to create worlds. You can draw to make people laugh. You can draw to tell stories. You can draw to clear your mind. You CAN draw.

The Freedom to Grow and Learn
With encouragement and acceptance of failure, you gain freedom. Freedom from worrying about whether you'll draw something right or wrong. Whether you'll draw something people like or don't. Who cares what looks right or wrong? Who cares whether people like it or not?
We're drawing. We're creating. We're making mistakes. And exploring. And experimenting. And growing.
I can tell you everything I know, everything I do, and everything I think. I can share with you everything I've read, everything I've made, and everything I learn.
I can give you the seed, but you have to water the seed.
And here is is, here's the seed:
You can draw. I believe that with my whole heart.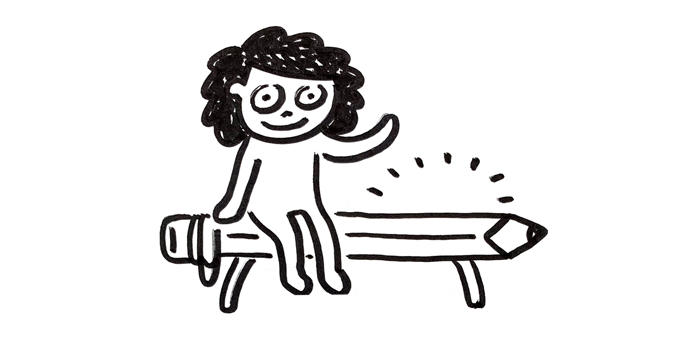 ---
Can't wait to let you know more about this learning space soon!
Let me know what you think by commenting below! :)
<3,
Christine