I write about drawing a lot. I write about how to draw, how to draw more, and how to draw in your own way. But what about why we draw?
This is going to sound melodramatic, but I say this in all seriousness: Drawing has had a profound impact on my life. Without drawing, I don't know who I would be, where I would be, or how I would deal with everything that happens in life. Drawing is the most powerful tool I have.
But again, why? Why is drawing so powerful? What does drawing do for me? Why do I draw? I've been thinking about these questions for a long time, and my answer comes in 3 parts.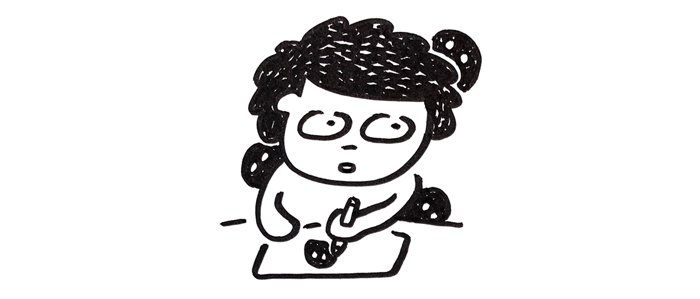 1. Drawing helps me
see

the blobbies inside me

I tend to bottle things up and push things down. It's taken me 30 years of life to realize this doesn't work, and eventually everything just crashes down in a wave of exhaustion and confusion. I've realized how easy it is to be unaware of my inner thoughts and feelings and how deeply important it is to be in tune with them. So now I'm trying to become more aware of how I'm feeling, and drawing is aiding that process.

Over the years, drawing has evolved from something I did for fun, to something I did for my job, to something that opens up a channel to my inner self. Besides talk therapy, drawing is the only thing I've found that can help me see what's really going on inside.

Almost every time I sit down to draw in my sketchbook, what comes out is a direct reflection of how I'm feeling in that moment. My sketchbook becomes a visual diary that can illuminate feelings I didn't realize I had. I turn off my thinking brain, move my pen across the paper, then look down and think, 'Why did I draw a big, bulbous toad with his belly hanging over his feet, droopy eyes, and a dead pan face? Oh, yeah. It's because that's totally how I feel right now.'

Drawing in my sketchbook helps me learn about myself. It keeps me honest with myself. It feeds something deep down inside of me, and it allows that something to come to the surface. I call these things blobbies, and drawing can give them a voice.

2. Drawing helps me
share

the blobbies inside me

These blobbies are inside all of us, and if you're anything like me, you're not in the habit of going around talking about them to other people. But this is why we have a stigma around mental health and why we all feel like we're the only ones struggling with our blobbies. We put on a mask, act like everything's ok, and in turn believe that everyone else has their stuff together.

My drawing and writing has allowed me to share these blobbies in a way I never could before. Becoming vulnerable with others and sharing what's really inside me is powerful for both me and whoever sees my art. Because we all struggle with our own blobbies, seeing other people's can remind us we're not alone.

Van Gogh once wrote in a letter to his brother,
"Does what goes on inside show on the outside? Someone has a great fire in his soul and nobody ever comes to warm themselves at it, and passers-by see nothing but a little smoke at the top of the chimney." -Van Gogh
When I share my fire and blobbies, I'm able to connect with other people on an entirely different level. The connection you share with someone who has experienced something similar to you and the validation you feel from hearing a story similar to yours is invaluable.
I used to think that motivational quotes and emotional artwork was melodramatic and over-the-top. But now, having gone through a period of darkness, those works of art have taken on a whole new meaning. When we're struggling, just having someone to relate to is extremely powerful. Others have been this to me when I needed it, and I aim, by sharing my own blobbies artwork, to be this to others.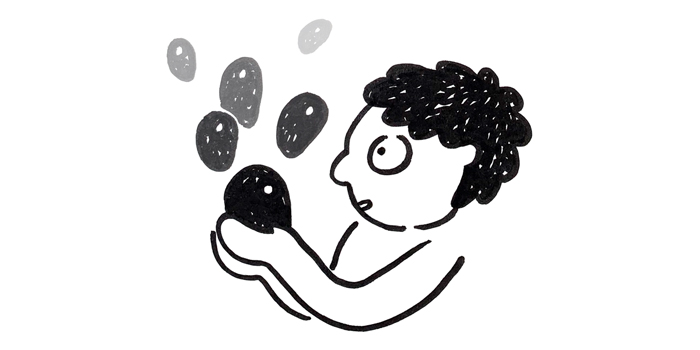 3. Drawing helps me
deal with

the blobbies inside me

Not only does drawing help me become aware of the blobbies inside me, it also helps me clear my head by reflecting on and clarifying those thoughts and feelings.

When I sit down to draw, everything else drops away. The external world fades out and it's just me, my blobbies, and my sketchbook. Drawing allows me to anchor myself in the present moment, rather than dwelling on the past and stressing about the future. It forces me slow down. It helps me focus on the only thing going on in this one moment: this one line, this one mark, this one color.

If I begin a drawing feeling agitated, grumpy, and stressed out, I almost always finish a drawing feeling more relaxed, content, and at peace. I draw my stress. I draw my worries. I draw my blobbies—often literally. Sometimes as the blobbies leave my pen, they leave me.

Other times, the blobbies are still there inside me, but I now have more awareness and acceptance of them, instead of denial and shame. When I finish a drawing, I'm reminded that my blobbies don't control my life, I do.  It makes me feel more accepting of who I am in this moment. Drawing reminds me that I am capable of change and growth.

Why I Draw: Drawing improves my mental health
Drawing helps me do these things, but I am still far from perfect. I have anxious thoughts, get overwhelmed, shut down, and get stuck in my own head. I can still feel insecure, powerless, stuck, exhausted, grumpy, hangry, unaware, depressed, and stressed out. Sometimes my blobbies run the show without me even knowing.
I am so very imperfect.
But that is precisely why I need drawing.
---
Thanks for reading, and I hope drawing can do the same for you.
Let me know why you draw by commenting below!
<3,
Christine