If you've been a subscriber for a while, you know I taught myself to draw when I was in middle school by copying Pokemon and Sailor Moon, stuffing page after page of pen and marker drawings in a big, purple three-ring binder.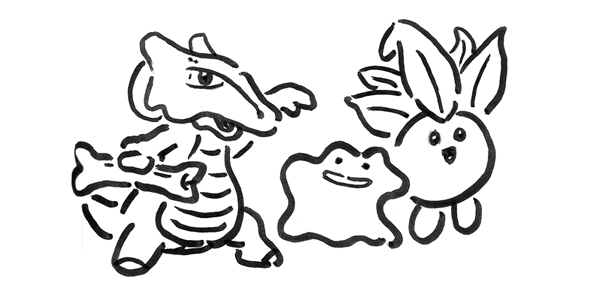 That obsession are what got me into making art. I enjoyed drawing and people told me I was good at it, so I decided I wanted to be an artist. I wanted to move on from drawing Pokemon cartoons like an amateur, and I wanted to make Art, with a capital A.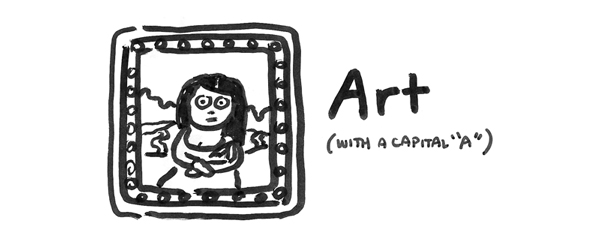 I started researching and learning about art, and began to notice what was hanging on the walls of art museums. I quickly came to the obvious conclusion: real Art is oil painting. So I saved up my money, went to the local art store, and bought a pack of small, flat canvases and a cheap set of oil paints, ready to begin my journey in Art—my journey to become an Artiste! With an accent!

It turns out oil painting is not my thing. I tried—I really did—but the process just never clicked. I didn't like the thick feel of the paint on canvas, I didn't have the patience for the slow layering and drying process, and I definitely didn't like the smell of turpentine. When I tried to oil paint, I didn't get the same excited feeling I did when I drew with pen on paper. Something was missing.
But alas, you have to paint to be an Artiste. Artists don't just draw, they paint! They create big, sweeping, painterly masterpieces with their paint-splattered pants and messy studios and giant wooden paint palettes!
So I moved on the watercolor. This would be the medium for me, I knew it. I saved up my money, went to the local art store, and bought a small watercolor paper pad and a cheap set of watercolor paints, ready to finally feel like an Artiste.

It turns out, that watercolor too, is not my thing. I didn't like the unwieldiness of the paint, I didn't have the good-under-pressure trait for the fast drying process, and I didn't like having to set so much up and plan ahead of time to be able to paint smooth swaths of color. It felt like a planned, stiff process and I was missing the free feeling and deep intuition I felt when drawing.
At that point, I started to think: maybe I'm just not cut out to be an artist. I'll always just be a drawer, a doodler, a cartoonist. I'll never ascend to the level of Art.

But then I thought about the things I loved most. Did I love going to the art museum and ogling over the Renaissance oil paintings, with their immaculate brush control, color blending skill, and ability to reproduce realistic scenes and people?
No.
Did I love looking at the watercolor paintings on the walls of museums and restaurants, with their ability to craft perfectly smooth and brilliantly colored expanses of color?
Not particularly.
I loved reading Garfield comics.
I loved watching Hey Arnold, Angry Beavers, and Dexter's Laboratory.
I loved gazing at the personality and originality of Pokemon cards.
But that's not art, right? Especially not Art-with-a-capital-A. That's all kid stuff.

So I put down the paintbrushes, I put down the markers and pens and pencils. And I stopped creating my useless, waste of time art-with-a-lowercase-a.
Years passed until eventually it dawned on me: who's deciding all this? Who decides what's Art, what's art, and what's nothing? I realized these labels are things that WE impose on art. We, artists and non-artists, proclaim what's Art and what isn't. This is a good oil painting. This is a good watercolor. This is art.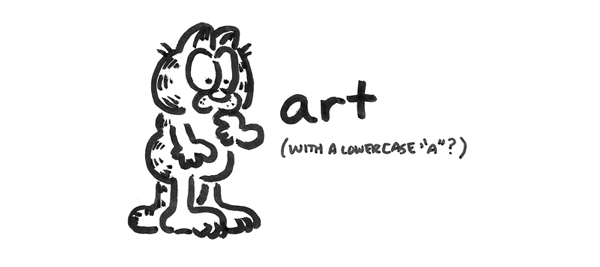 But I like cartoons. And comics. I like drawing with markers and pens and pencils and paper.
I decided to not care whether drawing was or wasn't art, and to just do it anyways.

And now, after years of drawing, I do think of my drawings as art. I'm going through the process of art making. And the making is the important part in art. I don't care if people think a cartoon or a comic is Art or art or not. I made it, so it's Art to me. My drawings are a visual representation of something that was in my head, so it's Art to me.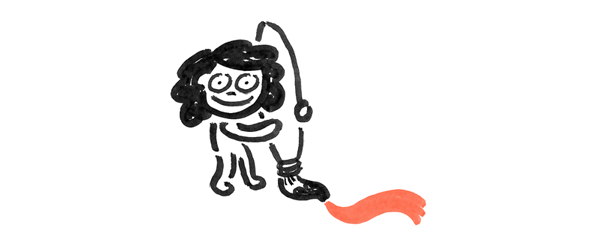 And once I adopted that mindset about drawing, I was able to apply it back to painting. I picked up watercolors again this past summer for the first time since middle school. I was terrible at it. I probably still am terrible at it. My swaths of color are patchy with hard edges and not at all smooth and flowing. My colors are bright and bold and almost straight out of the box, not subtly blended gentle hues.
But I enjoy painting like this. I enjoy the looseness of it. There's no dilly-dallying around when you're painting with watercolor. You gotta commit and just go with it. What happens, is what happened. Accept how it turned out or try it again. Now when I'm painting messy watercolors, I can get that same free, intuitive feeling I do when drawing.
I'd like to learn how to paint the smooth swaths of color to decide if I like that too. But to be able to commit the time to learn something, you have to enjoy it first. You have to give yourself permission to do it and enjoy the process and like whatever comes out of it. If you don't enjoy doing something, and you think you're terrible at it, and that you're always doing it all wrong, of course it would be hard to keep doing it! Why would we want to do something so negative?
We have to cut ourselves some slack. We have to allow ourselves to be terrible when we're trying something new and enjoy what we make for what it is, not what it could be.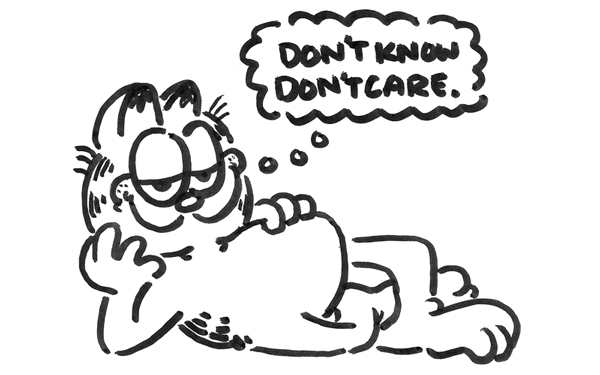 So my watercolor paintings are choppy and messy and rough. Who cares? I think it looks kinda cool that way. I like the feeling I get when I make them.
And I'd like to keep making them whether it's Art or art or nothing at all.