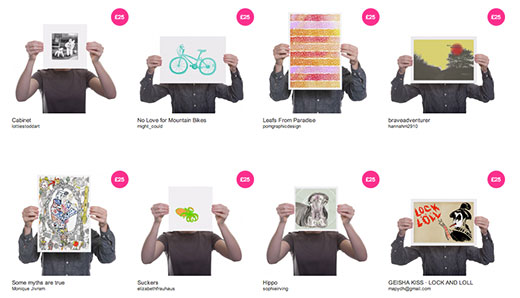 I've got brand spankin' new news—I've entered Ohh Deer's Open Season Competition! The image above (linked to one of my entries) is a screenshot of one of my pieces among some other entries! Ohh Deer is a company run by Jamie Mitchell and Mark Callaby. Together, they gathered a top-notch crew of illustrators, and work to promote and sell the work of those illustrators in the form of iphone cases, stationary cards, t-shirts, art prints, etc. In their own words:
Ohh Deer wanted to take the work of exceptional illustrators and create something extraordinary, objects that everyone can adorn their houses with, or pop in the post for a friend's birthday. We promise to continue finding and producing work that you will love for one reason or another, be it through ungodly cuteness or obscene vulgarity."
Their group of contributors is really talented, and they don't just promote anybody's work like some other similar sites. This is a highly curated group of artists, including some illustrators that I really admire. Currently, they're having a competition to find their next contributor. Anybody is welcome to submit up to 9 pieces to be put up for sale in their temporary competition store. The cool thing is, you can actually purchase the products of every competing entry right now! Based on how well the products sell, and how the curators like your work/style, they will choose one person to be the newest Ohh Deer contributor! And even if you don't get chosen, you'll get your share of the profits from your items that sold during the competition. Nice!
Sadly, you can't search the products by artist, so you'll have to do some digging to find my work. But I've posted some screenshots of my products that are currently for sale in the competition below, so you know what to look for. If you're looking for a new art print, stretched canvas, or iphone/Galaxy phone case, check out this link and you'll be helping me in the competition as well! Or you know, buy someone else's fabulous work, whatever…