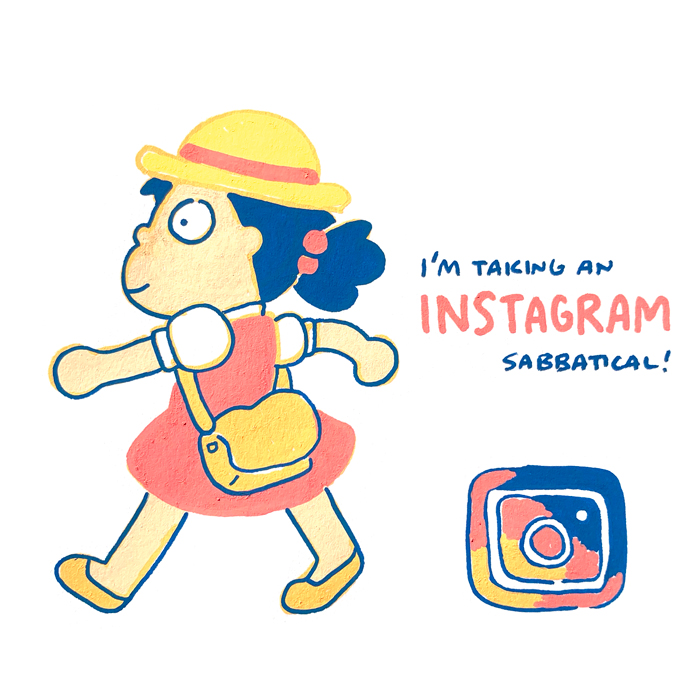 If you follow me on Instagram, you may have noticed that my last post was 11 days ago and was a little… gloomy.
Usually, I post a drawing on Instagram every day, and this 11-day-break is most likely the longest gap I've ever had on Instagram. I stopped using Twitter years ago and Facebook last year, but Instagram has lingered on. Why?
I enjoy sharing my art on Instagram because I like the accountability of having a designated space to share my daily art, as well as seeing what other artists are up to and being inspired by others' work.
But, as I'm sure you're well aware, Instagram has its drawbacks too.
I've been in a bit of a funk for the last couple of weeks. After a few quite bad days, I finally realized I needed to make a change or I was going to keep spiraling down. So I delegated some of my work tasks to my husband Declan, who works with me, and paused other tasks that could wait. I even took a break drawing in my sketchbook, as I've already been drawing for hours every day to meet my book deadline this month. Since my sketchbook drawings are pretty much the only thing I post on Instagram, this created an unintended break from Instagram as well.
And now, 11 days later, I have no urge to go back.
Part of the allure of Instagram for artists is something often called "growing an audience". We could find accountability and inspiration for our art in countless places across the internet, but Instagram dangles the carrot of "followers".
Instagram knows this is their golden egg and has recently been doubling down in this arena, adding new features to grow and monetize an audience on Instagram, particularly for indie creators like me. But, while the growth aspect is what sets Instagram apart, I think it's also what makes it dangerous.
Obviously, as an illustrator and entrepreneur, my career is pretty dependent on having an audience. The bulk of my income comes from products I sell to my "audience", like my courses and community. But I've never really seen you as my "audience" or "followers" or whatever other growth-oriented terms there are. That feels gross.
I think that's why I've always gravitated towards more interactive products like courses and community membership. I don't really want to amass an audience or a following.
And I don't see any of you as just an email address or number in a tally. You're a person just trying to make art, just like me. And I want to connect with other artists like you and me, on a deeper level than just trading likes and follows.
That can't really be done on Instagram.
And to be honest, that's why I built Studiomates, the online community I founded and co-run with a team of artists. I wanted the positives of social media, without all the negatives.
I am extremely lucky to do what I do for a career. And I wouldn't trade it for anything. But this recent depressive episode and near-burnout have made me come to a lot of conclusions that have been a long time coming.
I can't keep going the way I was. I can't sustain my career the way I was. I'm tired of playing along with the "grow your audience" game. I need to let go of what's not working and double down on what is. I need to stay true to what I believe in, what I value, and what I'm good at.
So, I've decided: I am extending my one-week break from Instagram to a month-long Creative Sabbatical.
Starting today, I'm drawing in my sketchbook again. I'm nearing the end of my book deadline, and I feel I've replenished my energy tank enough that I am ready to jump back into drawing personal work.
But I won't be sharing any art on Instagram for the next month. I'm not even making this sabbatical announcement on Instagram—that would defeat the purpose.
Instead, I'm going to share my art each day in Studiomates. This way, I still get the accountability of having somewhere to share my art and the positive encouragement from a group of supportive artists. And moreover, sharing my art to our private, intimate community specifically for artists where I know almost everyone's name (and many faces), feels completely different than sharing my art to ~7,000 followers who I probably do not know at all.
In Studiomates, the incentives for sharing art are different than social media. I'm not trying to get likes, build a following, or convince anyone to do anything. I'm not sharing from my account to your feed. I'm sharing just to share. From artist to artist.
Is it possible for me as an indie creator to stay off of Instagram and sustain my career? I don't know. But I feel in my gut that this decision is right, for now. How will I feel in a month? We'll see.
I'm tired of trying to build everything bigger and bigger. It's exhausting. I'm actually quite content where I am right now. And I'm also tired of being in the spotlight. I like myself well enough, and I thoroughly enjoy exploring and sharing my opinions and beliefs as I do here in these essays. But I have no desire to be an internet celebrity even on a small scale. I don't want an audience. I just want to share my art with those who like it and make enough money to support my family.
Instead of growing my audience bigger, I want to use the small platform I've created to spread the love and lift up other artists. I've been inching my way towards that over the past year, but this recent break has made me realize that that is the direction I need to keep going in.
It's lonely and exhausting to try to do things alone. I'd rather build an intimate community together with other artists where we can share our art in healthier ways and have deeper conversations, rather than keep shouting into the internet megaphone and being told again and again by Instagram that I need to learn some new feature to keep growing my "following" bigger and bigger.
Anyways, if you'd like to join me in my break from Instagram, I'm offering a special discount to anyone who purchases a Studiomates membership during my month-long sabbatical.
Use the discount code instagrambreak to get $5 off a monthly subscription, forever. That means you can get the Clubhouse plan for the normal price of the Community plan, or get the Community plan for just 4 bucks. And the discount price applies every month for as long as you're a member. Cancel anytime you like.
There's nothing inherently wrong with Instagram, and I may or may not return after my sabbatical. I don't know how I'll feel about it then. But I know that for me, I need a change. And this feels right.