Your place to learn and grow alongside other artists
Join Studiomates, our community-led platform to guide your unique artistic journey at all levels.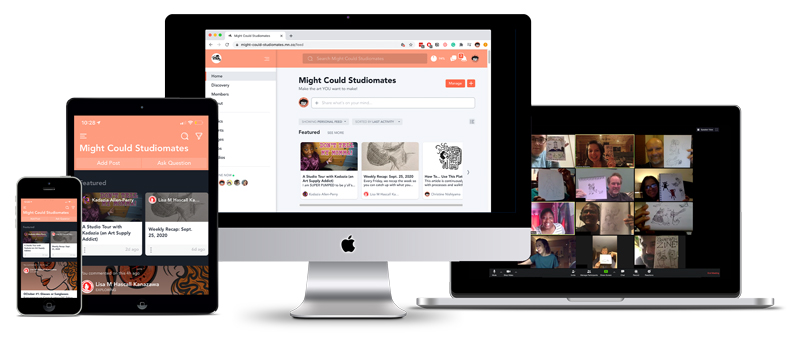 We've all been there. We've taken countless online art classes, participated in untold numbers of drawing challenges, and started (and stopped) innumerable sketchbooks.
And yet, we're still not able to make the art that feels like ours. We're still not sure what our artistic style is. And we often doubt if we can even call ourselves artists at all.
Welp, you are not alone.

Whether you're an aspiring, working, or established artist—we all struggle.
We've developed a framework to propel aspiring artists from stage to stage in the artistic journey. This framework is built around the common obstacles we all face and teaches us how to overcome them. But the framework is just one part of the puzzle. To keep moving along our journey we need more than instruction and resources. 
To really grow, we need encouragement, support, and connection with other artists.
Here in Might Could Studiomates, you'll find your community of artists while working on developing your creativity, discovering your artistic style, and creating dream projects.
"Just this morning I was thinking about Studiomates and realised it's a place I've stuck with for the longest of anywhere before, and has made me connect with my art in a way I haven't felt in a long time—there's definitely something really special about it! Thank you for making it, and the courses, essays and challenges. The community is really wholesome and supportive, just what we need to foster creativity :D​"
These are your studiomates.

We have all kinds of people here in Studiomates! From young to young-at-heart, from Japan to Nebraska, from aspiring artists to pros—everyone is welcome here.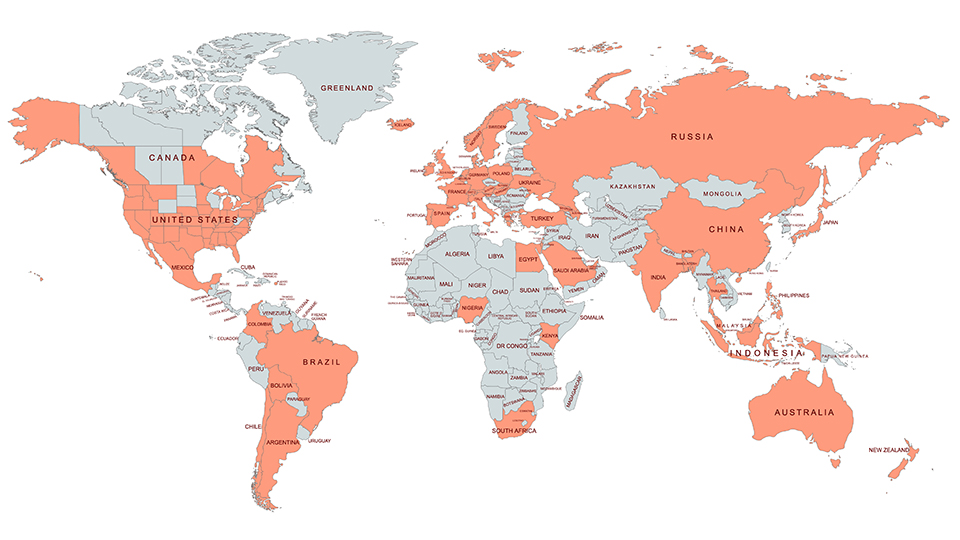 Studiomates are spread out over 30 countries! Make connections with artists all over the world who share a passion for creativity.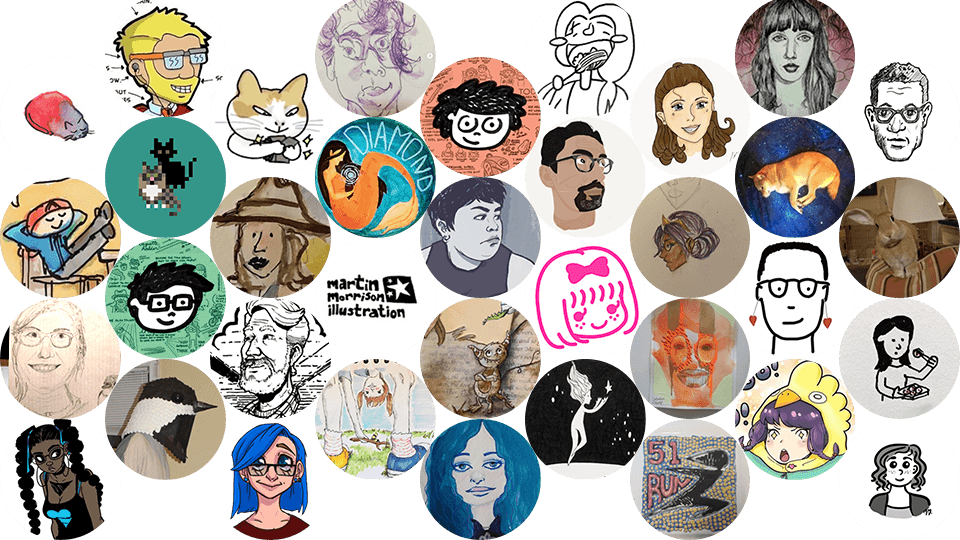 Studiomates is a safe place to share your art with like-minded people. Share successes, issues, feelings, and thoughts. We all need support to make it on our artistic journeys—we're here for you!
"I'm so excited to have found a space I actually look forward to checking in every day. <3"
"Never thought at 37, I'd feel comfortable with my art or find a community that's welcoming, supportive & available.​"
Ready to become a Studiomate?
The aspiring artist doesn't need someone to show them how to make their art. They need a supportive community that will make art with them. They need nurturing, encouragement, and the support of other artists who understand the obstacles they're facing.
Most artists never got this early support. And so, most artists never progress from that point, forever calling themselves Aspiring Artists.
Studiomates changes all that. 
"If anything, this community simply existing and being so supportive is what encourages me to continue trying, but even that is hard sometimes. The comments by the lovelies Lisa and Christine up there both gave me a sense of empowerment while also realizing the need to be kind to myself. Thank you for expressing this, i know i wouldn't have on my own."
We help artists progress along their artistic journey with our
Community, Clubhouse, and Studios.
Chat with and get support from other artists with our community posts.

A weekly series, hosted by our Studiomates Hype Master, Kadazia Allen-Perry, where she takes us inside her overflowing artist toolbox to explore new mediums and ways of making art! 

A weekly drawing challenge, hosted by fellow Studiomate, Masina Sausi, to give you the lil' kick in the butt you need to finally draw consistently!

A weekly question, hosted by our Studiomates Founder, Christine Nishiyama, where we share our art blobbies in a safe, supportive environment.

A twice monthly article, hosted by our Studiomates Community Manager, Lisa M Hascall Kanazawa, where she researches and reports back help with your digital art questions!

A collection of community highlights each week so you can stay in the loop!

Share your works in progress and ask about other artist's process.

A place to share the art you make—drawings, paintings, writing, anything!

A collective resource of inspiring books, videos, articles, and websites.
"Wow it's so nice to talk to fellow artists about these kinds of thoughts. I'm glad we are all pushing ourselves to overcome our self-imposed criticism and limitations. We are all making some really cool drawings! :D"
"It has transformed the way I create and is really helping me find my style."


Connect on a deeper level with your art and other artists.

Hi there! One reason I created Studiomates was because I wanted to have a space to meet other artists and talk shop with people who understood the up's and down's of making art. I've lived in a lot of small towns where there weren't really opportunities to meet and socialize with other artists. But with the magic of the internet, we can connect with artists from all over the world, not matter where we are!
What's the Clubhouse?
The Clubhouse is a private space in our community that facilitates deeper connections between our members through live monthly artmaking events.
This is a space to meet your fellow Studiomates in-person (virtually) and put a face and voice to their avatar and art! Want to draw and socialize together with a group of artists? We're here! Want to work on a project while chatting with other artists also working away? Come on in!
How does it work?
The Clubhouse has been designed to connect members through monthly Zoom video calls. We have a series of event themes that we rotate through, including:
Art Chat Hangouts: 

A live event where we work separately on our own art project while video chatting together

Drink + Draw: A live event where we draw a prompt chosen by the host while drinking the drink of your choice

Book Club: A live event where we discuss a chosen book related to creativity and art making.


Hello fellow creative! We're so glad you're interested in becoming a MightCould Studiomate! Studiomates is a fantastic place to learn and grow alongside other illustration-based creators. It is also a great place for anyone embarking on any sort of creative projects thanks to our in-network studio, Project Incubator! Created and Hosted by Kadazia Allen-Perry, Project Incubator is a space for artists to grow and carry out their long-form creative project ideas alongside other creatives doing the same!
What's Project Incubator?
Project Incubator is an online space to provide support and accountability for any type of art project! Working on a graphic novel? We got you, fam! Shooting the next great stop motion film? We are all here for you! Need eyes on your intergalactic love story web series script? Bruh… We were built for this!
How does it work?
This studio has been designed to give feedback, share resources, and hold you accountable throughout the creation of your project through:
pitch meetings
twice monthly feedback sessions
twice monthly goal setting
quarterly focus groups
How do I join?
Project Incubator will help you and your creative project reach the stage of confident completion! Ready to get started? Join us in the Clubhouse of MightCould Studiomates today!
Not too long ago, people would ask me if I'm an artist and I would reply "not really", because I wasn't known, I didn't create art daily, I didn't share my art publicly and I didn't get paid for it. I felt like I didn't earn the right to call myself an artist. However, since joining the Might Could Studiomates community I have finally accepted that "hey I am an artist!" I have more confidence in myself & my art than I ever have.
Learn and grow with the support of other artists.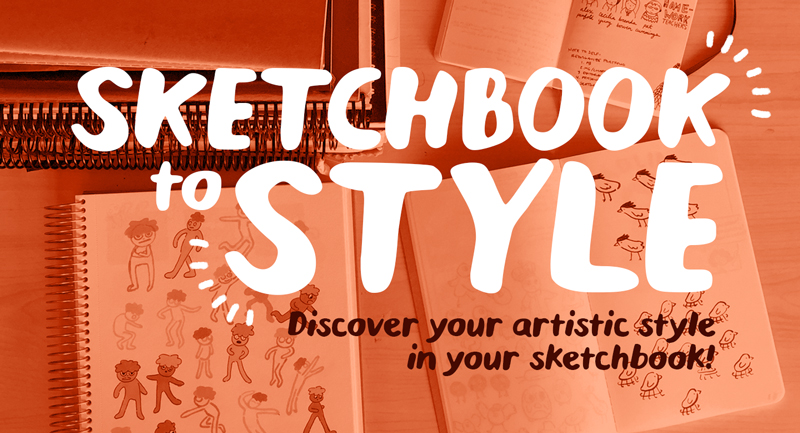 Discover your artistic style through our step-by-step system designed to guide you through the journey of starting a sketchbook practice to discover your unique artistic style and voice.
"I'm actually enjoying the sharing because the feedback is helping me see my style. I forget that with drawing the possibilities are endless. There are no restrictions. Thank you for the amazing assignments so far. I'm finding my style and enjoying myself while pushing myself not to give up. I just realized I'm few assignments away from completion. This has been an amazing journey."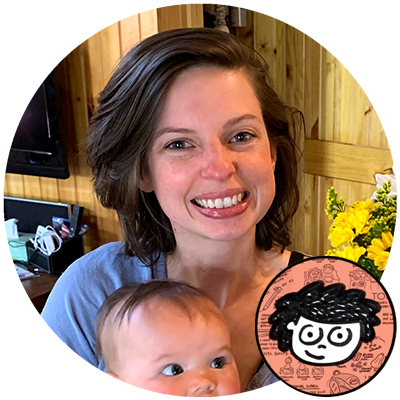 Christine founded Might Could in 2012 and has since taught 75,000+ students in her online courses, written 100+ essays on creativity, traditionally published 2 (of 4) books with Scholastic, and self-published 1 book. She founded Studiomates in 2018 and is works hard to guide the overall vision and design of the community.
She currently hosts all the Studio courses as well as Essay Bonuses, Art Therapy Talk, and Draw Party.

Lisa works hard to make the overall Studiomates experience the best it can be. She is constantly growing and engaging our community by hosting live events, collaborating with our guest hosts, listening to and advocating for our members, and cultivating a friendly, welcoming space for all artists.
She currently hosts Art Chat Hangout, Digital Q+A, and Weekly Recap.

Kadazia works hard to make the Studiomates experience the most inspiring and productive it can be. She facilitates artistic growth in our members by hosting feedback group meetings and cultivating an approachable, fun space for all artists to get to work.
She currently hosts Tool Talk.

Masina leads our weekly drawing challenge, #MightCouldDrawToday, coming up with art prompts, encouraging fellow artists, and sharing her own artwork. She helps cultivate a supportive and uplifting environment where we can all get inspired and start drawing consistently! 
She currently hosts
 MightCouldDrawToday.

Carla hosts our virtual Drink + Draw events, leading us through creative art prompts while chatting, drawing, and sipping along. She helps create a fun and free-spirited hour of drawing where you never know what you'll end up with!
She currently hosts Drink + Draw.
"This week marks week 53 of drawing MightCouldDrawToday Themes. I have been drawing and posting almost every day to either MCDT. Joining MCDT, I ended up completing six sketchbooks and starting three more. If I hadn't, I might have completed one or two sketchbooks. So, here's to dedicating myself to another 52 weeks of drawing daily!"​
Ready to become a Studiomate?
Frequently Asked Questions
Thank you for making this space for us. Being here is the single best thing I've done for myself in a long time. Also it's thanks to you that I have filled an entire sketchbook for the first time in my life! I had never come even close before.