You may be thinking: "Hey wait, Christine—you've only got 6 drawings there!" And how right you are!
I didn't draw one day this week because I spent the day driving around North Carolina to see family and celebrate my Grandma's 86th birthday. It was a great day, but I was completely exhausted by the time I got in bed at 11:30pm. As I crawled into bed, I remembered I hadn't drawn yet that day. But I chose to relax, let go of perfection, and go to sleep instead of trying to hash out a drawing with my droopy eyes.
I often proclaim the benefits of drawing every day, but if you'll notice, I usually say "almost" every day. Because I believe keeping up our drawing practice is one of the most important things we can do to continue to grow BUT I do not ever want that goal to turn into perfectionism or a die-hard obligation to complete our goal, or guilt and shame when we do not.
I make goals to encourage myself, but not to trap myself. I have the goal of drawing every day not to rigidly force myself to draw every day bar none, no matter what, but instead to give me the little nudge I need on sluggish days, so I can end up drawing not a perfect streak of days forever and ever, but so I can draw a whole lot.
That's why this drawing challenge is called Might Could Draw Today, not Draw Today. It's not a command. It's not a law. It's a gentle suggestion, a compassionate challenge, a flexible encouragement, a reminder that maybe, just maybe, I might could draw today.
And maybe not. Because some days there are other things in life that are more important than squeaking out another drawing, like our Grandma's 86th birthday, and our mental and physical health. Because in the long run, we'll be able to draw a heck of a lot more if we allow ourselves to rest when we need it, prioritize our health, and treat ourselves (and our goals) compassionately.
Read more on this, and changes coming to #MightCouldDrawToday in today's email to subscribers. :)


Week 59 Stats
Week 59 Drawing Prompt: Art Nouveau

Artists sharing this week: 29

Drawings shared this week: 126

Total drawings shared: 13,513

Artists who completed challenge this week: 10


Week 59 Challenge Winner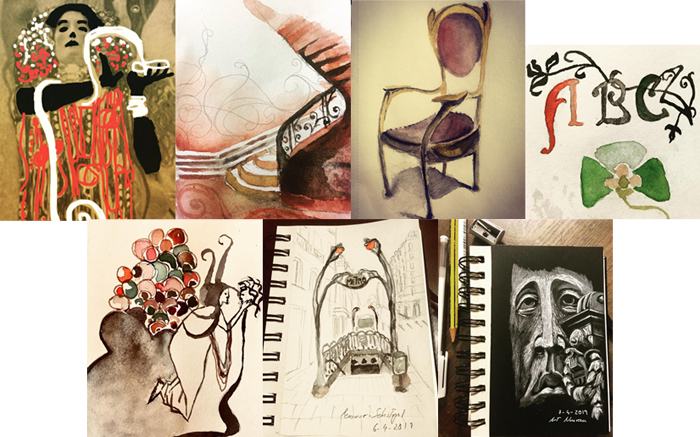 @dibujosdemaria!
Congratulations! Your color palette of warm reds, greens, and grays is right on point and your whole series feels so much like Art Nouveau! I love how you really approached it from so many different ways—paintings, furniture, interior design, typography, all of it! And I'm totally drawn to the lightness and dreaminess of that 5th piece of art—truly captivating! And of course, awesome job drawing all 7 days! :D

As this week's winner, @dibujosdemaria will receive a brand new artist pen.

Check out more of their artwork here: @dibujosdemaria


Thanks again to everyone who participated and shared your drawings!

Keep it up! The next challenge prompt will be posted to my Instagram stories momentarily!


<3,
Christine